Breckenridge International Snow Sculpture Competition
Breckenridge Snow Sculpture Championships - January 22nd-26th 2013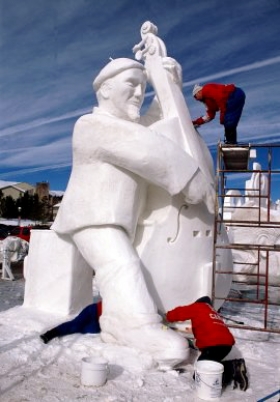 Each winter, artists from around the world converge on Breckenridge, Colorado for the 23rd annual International Snow Sculpture Championships. Using only hand tools, imagination and creativity, sculptors transform 20 ton blocks of snow into pieces of intricately carved art. The sculpture themes are as varied as individual snowflakes that originally formed them, ranging from animals at play to thought-provoking abstract shapes.
The massive snow blocks are formed within wooden frames packed with snow from the Breckenridge Ski Resort. As the frames are filled, teams of "snow stompers" climb in to pack down the snow, ensuring an even consistency. Teams comprised of four artists each then have a total of 65 hours to transform the snow blocks into intricately carved works of art using tools such as carrot peelers, chicken wire and hand saws.
The International Snow Sculpture Championships are held outside the Breckenridge Riverwalk Center, located on South Park Avenue. Additional sculptures are also exhibited in the adjacent Blue River Plaza, with an ice village and interactive children's sculptures contained within the Riverwalk Center itself. There is no fee to attend this week long event and sculptures are scheduled to remain on display through February 5th. Nighttime viewing is always a favorite, as many of the sculptors play with light and shadows in elements of their designs.
Visitors can support their favorite snow sculpture with the People's Choice Vote. Voting occurs throughout the sculpting week, ending Saturday, January 26th at 10:00am. Stop by the event headquarters or simply track down an on-site volunteer to place your vote. A $1 donation, benefiting the International Snow Sculpture Championships, is requested from each voter.
At 3:00pm on Sunday, January 26th, a panel of artists will award the top three teams based on their use of theme, style and technique. Additional categories include Kids' Choice, Artists' Choice and Peoples' Choice awards.
To book your lodging for the International Snow Sculpture Championships, call Summit Concierge at 1.866.998.0696 or locally at 970.455.4040.
More Information:
Plan Your Trip:
Breckenridge Lodging