Denver to Breckenridge Shuttle Service & Breckenridge to Denver Shuttles
Denver to Breckenridge Airport Shuttles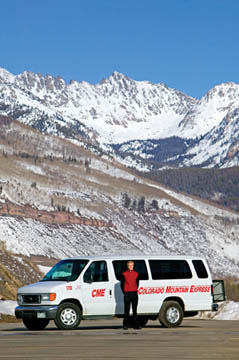 Our Denver to Breckenridge Shuttle Service offers the most convenient and economical transportation option from the Denver International Airport to Breckenridge, Colorado. With multiple daily departures, our shared ride Breckenridge Shuttle allows you to sit back, relax and take in the gorgeous Rocky Mountain scenery without the worries of having to navigate the interstate.

Transportation to Breckenridge is provided in impeccably maintained 10 passenger shuttle vans with reliable, courteous drivers behind the wheel. This door to door service was designed to deliver you directly to your accommodations in safety and comfort.
Shuttle Service from Denver to Breckenridge starts at just $63.00 per person, and with our Multiple Traveler Discount, you'll save money when riding in parties of 3 or more. The more people you travel with, the more you'll save!
Shuttles depart the Denver International Airport for Breckenridge hourly from 8:30 am to 10:00 pm. Breckenridge to Denver Shuttles pick up in Breckenridge every hour, starting at 6:00 am and running until 7:00 pm.

Book Now
To reserve your Shuttle Transfer from Denver to Breckenridge, contact Summit Concierge toll free at 1.866.998.0696 or locally at 970.455.4040.
One-Way Denver to Breckenridge Shuttle Rates:
Shuttle
Passengers
Rate Per
Passenger
Total
Shuttle Cost
Shuttle
Savings
1
$63.00
$63.00
-
2
$63.00
$126.00
-
3
$50.00
$150.00

$39.00

4
$50.00
$200.00

$52.00

5
$50.00
$250.00

$65.00

6
$50.00
$300.00

$78.00

7
$50.00
$350.00

$91.00

8
$50.00
$400.00

$104.00

9
$47.00
$423.00

$144.00

10
$45.00
$450.00

$180.00
Additional Information:

We offer Denver to Breckenridge Shuttle Service as well as Breckenridge to Denver Shuttles. Reservations can be booked one way or round trip.
All guests must travel on the same Shuttle in order to receive multi-passenger discounts.
Denver to Breckenridge Shuttle rates listed above are for one way travel.
If the number of people in your party changes after making reservations, the multi-passenger rate will also change.
Vans can be chartered as a privately chauffeured alternative to a shared ride Shuttle from Denver to Breckenridge.
Breckenridge Shuttle Alternatives & Other Ground Transportation Options:
Plan Your Trip:
Breckenridge Vacation Packages
Activities in Breckenridge, Colorado
The Rocky Mountains provide a tremendous array of Winter Activities & Things to Do in Breckenridge, Colorado. Breckenridge Activities include Snowmobiling, Winter Zip Line Tours, Dog Sledding, Sleigh Rides, ATV Tours, Fly Fishing, Spa Services, Gold Mine Tours, Old Time Photo Studios, Tubing & Sledding and Ice Skating.

Each of our Vacation Specialists have actual experience regarding the Breckenridge Tours and Activities we sell. Contact us toll free at 1.866.998.0696 or locally at 970.455.4040 to plan and book your Breckenridge Vacation today!

(Please click on the Activities Tab to close this window)