BreckConnect Breckenridge Gondola
Breckenridge BreckConnect Gondola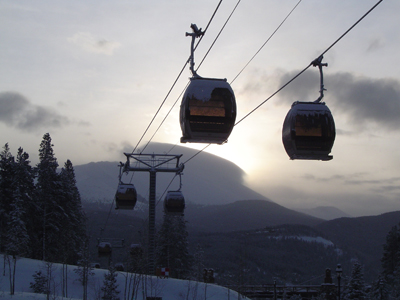 Breckenridge's brand new Gondola, aptly named the BreckConnect, opened in January of 2007. Starting at the Breckenridge Transportation Center, the Gondola has terminals at both the Peak 7 and Peak 8 base areas, as well as a mid-station located in the Shock Hill Neighborhood. With a 10 minute ride time, the BreckConnect Gondola provides an exceptional transportation experience for skiers, riders and visitors, while greatly reducing the need for bussed transportation between the town and the Breckenridge Ski Resort.
The Breckenridge Gondola allows skiers and snowboarders to bring their gear inside its spacious 8-passenger Gondola cabins, rather than having to use exterior mounted carriers. The Gondola has a carrying capacity of up to 3,000 passengers per hour. Its path travels through a remarkably scenic wildlife habitat area known as Cucumber Gulch en route to the ski area.
Visitors will find the BreckConnect Gondola serves as an integral link between the town's skier parking lots and the Breckenridge Ski Resort. Paid parking is available for $10 adjacent the gondola in the Miners and Tailings lots, with free parking available across the street at the Gold Rush and Postal lots. Skiers and riders can now ski directly back to the town and these parking lots via the Skyway Skiway, accessible from the Lower Four O'clock run on Peak 8.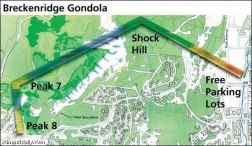 Breckenridge Gondola Details
BreckConnect transport capacity of 3,000 people per hour
2 mid-stations located at the Shock Hill Neighborhood and the Peak 7 Base Area
10 minute Breckenridge Gondola Ride time from Transportation Center to Peak 8 Gondola Terminal
7,592 feet in length
391 feet of elevation gain
121 gondola cabins
28 gondola towers
Additional Information:
Activities in Breckenridge, Colorado
The Rocky Mountains provide a tremendous array of Winter Activities & Things to Do in Breckenridge, Colorado. Breckenridge Activities include Snowmobiling, Winter Zip Line Tours, Dog Sledding, Sleigh Rides, ATV Tours, Fly Fishing, Spa Services, Gold Mine Tours, Old Time Photo Studios, Tubing & Sledding and Ice Skating.

Each of our Vacation Specialists have actual experience regarding the Breckenridge Tours and Activities we sell. Contact us toll free at 1.866.998.0696 or locally at 970.455.4040 to plan and book your Breckenridge Vacation today!

(Please click on the Activities Tab to close this window)