What to Wear Fly Fishing in Breckenridge
What to Wear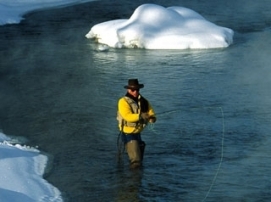 Staying warm and dry while winter fly fishing in Breckenridge is paramount to enjoying your day on the water. Layer underneath your outerwear with two to three layers of thermal wear, including a layer of fleece pants if you have them.
Properly insulating your chest, abdomen and back will provide the added warmth your extremities require in winter fly fishing conditions. When the body's core temperature is kept at an optimal level, it allows warm blood to continuously circulate to your limbs. A waterproof, windproof jacket should be worn over base layers.
Wearing the right pair of socks is also key to remaining warm and comfortable. Local anglers often wear a pair of silk liners with a pair of pure wool or "Smart Wool" brand socks over them. These socks can be pulled over your pants to keep your calves well insulated. Consider bringing along chemical toe warmer pads (often marketed for skiing) to place inside of your waders. Carrying an extra pair of socks with you can make cold feet feel new again on even the chilliest of days.
A pair of gloves with good dexterity are an asset to any winter fly fisherman. If you don't own some, be sure you ask to borrow a when stopping by your guide's fly shop. A warm winter hat is also invaluable in cold fishing conditions.
With the proper insulation, your comfort on Breckenridge's world-renowned rivers and streams is all but guaranteed.
Book Now
To book your Breckenridge Fly Fishing Trip, contact us toll free at 1.866.998.0696 or locally at 970.455.4040.
More Info:
Breckenridge Fly Fishing Homepage
Plan Your Trip:
Activities in Breckenridge, Colorado
The Rocky Mountains provide a tremendous array of Winter Activities & Things to Do in Breckenridge, Colorado. Breckenridge Activities include Snowmobiling, Winter Zip Line Tours, Dog Sledding, Sleigh Rides, ATV Tours, Fly Fishing, Spa Services, Gold Mine Tours, Old Time Photo Studios, Tubing & Sledding and Ice Skating.

Each of our Vacation Specialists have actual experience regarding the Breckenridge Tours and Activities we sell. Contact us toll free at 1.866.998.0696 or locally at 970.455.4040 to plan and book your Breckenridge Vacation today!

(Please click on the Activities Tab to close this window)